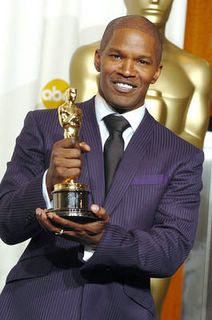 Jamie Foxx with his Oscar!

In case anyone noticed I mentioned on Saturday that I may have changed my mind on JMu. That however was shortlived, I woke up yesterday with a blemish on my nose or if you would rather, a mark of shame! My sister asked me to try the
Dermalogica
skin care line for a month. I've been for almost three weeks now and mentioned to her that my skin had been flawless. That is of course until now! Is it a coincidence that the mark of shame happened to appear after my admission? I think not!
I had a wonderful weekend! I saw a beautiful documentary on HBO called
A Century of Living
where everyone in the program was born in either on or before 1900. They talked about the changes that went on in society through their lifetime. It made me think of all changes I've seen in my relatively short time on Earth compared to them. I felt it was quite sad when they talked about having outlived their children. It reminded me of the episode of
Designing Women
where Charlene gives birth to Olivia and Julia meets a woman who is dying. I don't think I'd like to live quite so long but it does excite me to ponder the possibilities of change in my lifetime!
I also read a lot of magazines. One in particular was
One2One Magazine
which is a magazine aimed at being single. I thought it was an incredibly borning magazine but there was an article on
Hal Sparks
where he mentions that he is a Buddhist, speaks Mandarin Chinese fluently and also happens to be a musician! You learn something new everyday! I've never seen
Queer As Folk
as I don't have Showtime. But I loved when he was the host of Talk Soup and his appearances on VH1.
Jamie Foxx
won the Oscar! He had a beautiful acceptance speech! And I thought it was adorable what his daughter told him! I think Hollywood is surprised by the gem they've found in Jamie Foxx!