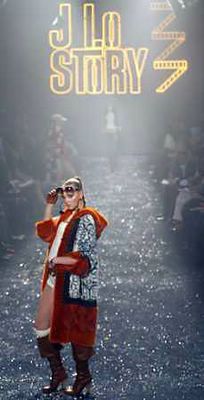 JMu

I was in such a bad mood yesterday that I decided to watch
Jennifer Lopez: Beyond The Runway
on MTV. I must say that I felt differently toward JMu than I did before this program, I actually thought she was a bit *gulp* nice.
There were certain moments in the program which might have been labeled as "Divaesque" such as when she's talking about a model's decision not to wear fur (part of the JMu collection) she says "Does she not wear leather also? Does she know that leather also comes from animals?"
There was also a small segment of the program where she's in a meeting with the perfumers who are in charge of creating the fourth JMu fragrance - what is currently being referred to as "Fluide." I have pictures in my MUA profile for those interested in that JMu campaign.
She wasn't interested in any of the fragrances that were presented to her and mentioned that one of the prototypes smelled like Avon's Skin So Soft. Only time will tell what "Fluide" will smell like, which bottle they choose and if they decide to change that horrible name.
At the end of the program I felt like I could maybe *gulp* like her! I mean, she's managed to be the highest paid Latina/Hispanic/Mestizo celebrity ever. She's had both a number one album and number one movie at the same time and she's been involved in monetarily successful cosmetic and fashion lines.
Then again, please keep in mind that I was in an incredible awful mood yesterday and according to Newton's third law "For every action, there is an equal and opposite reaction." Do I chalk up my new feelings toward JMu to a change of heart or to Newton's law?
Note: JMu is what I'm now calling JLo in case she changed her last name in marriage number three. Marc Anthony's last name is Muniz. Which would make her JMu currently and in previous marriages JNo and JJu respectively.