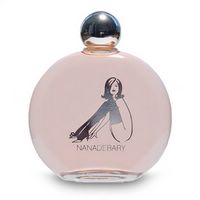 Nanadebary

Last year on MUA's fragrance board it was big news when Nicole Kidman revealed that she was wearing Perfumer's Workshop Tea Rose to the Academy Awards "The Oscars". If I were attending the Oscars as a nominee I'd wear Nanadebary. Since I am neither nominated nor attending I'll wear it anyhow!
According to the website,
Nanadebary
is a perfect balance of lily, Calabrias jasmine, Bourbon Vanilla, Nutmeg and Ginger. A hymn of sensuality with notes of cloves, musk, myrtle and sandalwood. Which is exactly what
Aedes
lists on their site.
LuckyScent
and the
Beautyhabit
however list different notes.
Nanadebary comes in two sizes 1.7oz for $70 or the 3.4oz bottle for $130. The larger bottle may look nicer however, it has the leaky bulb atomizer which is the one I purchased. I would recommend buying the smaller bottle instead as you don't really save any money by purchasing the larger bottle. They have changed the bottle since I purchased, it phasing out the round bottle and changing it to a square one instead.
Nanadebary is amongst one of my favorite fragrances a perfect for either elegant or casual occasions!