Sage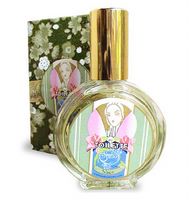 Today's sample is Sage eau de toilette by
Sage jewelry
the notes in this one are:
Top: New Mexican white sage and cucumber
Middle: Sweet pea
Bottom: African Musk and tonka bean
I live a skip, hop and jump away from New Mexico and I think they are dead on with the sage. It's gorgeous! You'll find different types of sage incense sold in boutiques all over New Mexico. This is a beautiful fragrance however, I think I'd like it even more with the omition of the cucumber. Thankfully the sage is more predominant but the cucumber is still highly detectable.
This would be perfect to wear on a hot summer night when you go to a midnight barbecue!
Retails for $68/1.7 oz. at
Luckyscent
and
Lacreme
.