B*Men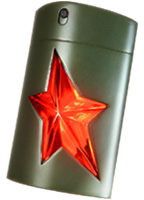 B*Men by Thierry Mugler was the third fragrance that was included in the Fifi Awards gift bag as the other two weren't stellar hits, my expectations weren't too high for this once. Especially given the fact that Angel isn't exactly one of my favorite fragrances.
The notes for B*Men are:
Top: Rhubarb, Fruit Notes
Middle: Sequoia, Spices
Base: Vetiver, Amber
The entire bottle is encased in rubber so I found it a bit hard to spray and after some trouble I finally was able to get the juice out of the bottle. With one spray on my hand, it really packed a punch. It was incredibly woody with hints of fruit and spices.
If you like Bois De Paradis or something similar along those lines, you'd love this! I was surprised at how much I liked it, my sister gave it a thumbs down. She has managed to insult most of the fragrances I've worn since she's been here. While one spray packs a punch for a while, after two hours the fragrance is almost gone.
I think this would be wonderful worn in cooler weather as an all day fragrance with a light hand but to we worn with abandon at night. It is really beautiful and the fragrance I liked the best out of the three in the gift bag.
B*Men retails for $48/1.7 oz. and $64.99/3.4 oz. and can be found wherever Thierry Mugler fragrances are sold online,
Scentiments
has the 1.7 oz. for $38.99.