Demeter Gin & Tonic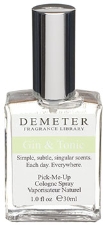 I first tasted a gin & tonic two years ago. My friends and I were going to the local amusement park and we were waiting for other people to arrive so we could go together as a group. As my best friend and I had been waiting for a while, she decided to make us some drinks. As she opened up the gin I mentioned that it smelled like a pretty perfume so I wore it as such. Several gin & tonics later everyone arrived and off we went to the amusement park where the two of us went crazy. We kept going on the water based rides and then would run off to the other side of the park and get on the fast spinning ones to dry off. We convinced the others to do the same but after a while they couldn't handle it, especially the ones that have motion sickness. Weaklings! That was by far the best day I had all that year as earlier that year I had been in the hospital.
Demeter's Gin & Tonic tries to recreate the scent of the drink. I get primarily juniper berries from this fragrance with a few spices that is slightly citrusy. Very true to gin but would be even better if it were slightly more citrusy. On my skin, it seems very dry but that seems to get better over time.
A nice unisex fragrance that can easily be worn all day, year round. It's the perfect fragrance for today where it's 105°F and my head has been killing me all day! I could really use a real gin & tonic right now. The staying power is pretty good on my skin which is rare for a Demeter.
Demeter's Gin & Tonic retails for $18/1 oz. at
Sephora
but it's an even better bargain for $19.89/4 oz. at
Scentiments
.