Tarina Tarantino Hello Kitty Ring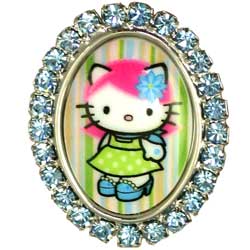 I was talking to my sister the other day who mentioned that my blog would be better if I stopped talking about fragrance. I asked her, what do you want to hear about and she said "Anything but fragrance, it's so boring!"
Later in the conversation she asked me what I wanted for my birthday and I told her there are two things I've have my eye on so she asked what they were the first being a Hello kitty ring from
Tarina Tarantino
- I'm haven't even picked a specific one as I want them all. The second being L'Artisan's Extrait de Songe so she asked for links for the two items. She said "Are you crazy spending $100 on a fragrance!" and she also said "Why can't you pick some real jewlery, not something with Hello Kitty on it!" and then she said "I'll get you the Hello Kitty ring if you buy me the Audrey Hepburn tiara!"
Mind you my sister already has an
Audrey Hepburn tiara
, a replica of the one she wore in
Roman Holiday
and she's not talking about the other tiaras sold through Tiara Town she's referring to one she saw in
In Style Weddings
, a replica of the one Audrey wore in
My Fair Lady
made by
Excalibur Jewelry
which retails for$750!
In other news, I saw
How To Deal
starring
Mandy Moore
this past weekend. The plot is that her parents get a divorce and her dad gets remarried and her mom starts dating. Her grandmother smokes weed (because she's sick - or something). Her sister's getting married, calls off the wedding then goes through with it. Her best friend falls in love with a boy who dies and then after he's dead she finds out she's pregnant with his baby. And Mandy Moore falls in love with a boy. The End! So now I know how to deal! Take that society!
I got two small prizes yesterday, a trading card holder from a
NBA
contest and a bottle of Aussie Dual Personality Anti-Frizz Cream + Leave in Conditioner from
Allure Magazine.
I already tried the Aussie product and it's pretty good and it didn't weigh my Charlie Brown hair down!
I hadn't yet posted my goals for this summer or chosen a power color. I was going to pick red but at the final moment hot pink took over my mind. As two of my favorite Hello Kitty bags have hot pink in them I figure it's a good choice.
My goals for this summer are to continue working on myself and also cut out or reduce all my bad habits such as being a procrastinator or keeping things organized. Being the Queen of Denial seems to be the easy way out of things but the past always catches up with you and that's what I hate the most. It's time to face my fears!
I suggest that anyone who's been procrastinating on their life goals and are too afraid to face their fears to join in this movement! There are power in numbers and we'll stand stronger together! It's never too late to accomplish anything! No matter how big or small your goal is you can do it! Believe in yourself!