Lulu Guinness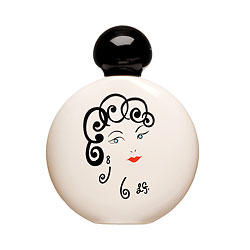 I went to the two Marshalls in town yesterday hoping to find Urban Decay Powders, eyeshadows or Collection by Escada. The only thing I was able to find were the Urban Decay eyeshadows which were not just tested but crushed - I'm talking nothing but powder!! Stupid ass savages who shop at Marshalls! The only new fragrances I spotted were Trump the fragrance which surprised me as it was released fall of 2004, Dolce and Gabanna's Light Blue which I already have and Lulu Guinness which I had wanted so I caved on the bottle of Lulu Guinness to mark my birthday!
Lulu Guinness the fragrance was released by Lulu Guinness the famous handbag designer and was released in Spring of 2003. The notes in Lulu Guinness are:
Top: Clementine, Cassis Flower, Apple Blossom, Pink Sweet Pea
Middle: Lily of the Valley, white Easter Lilies, Amaryllis, Bluebell Lilies
Bottom: Sandalwood, Heliotrope, Egyptian Jasmine Absolute, Rose Absolute, Wild Jonquil Absolute.
Of the top notes, the sweet pea is the strongest note but that soon falls short to the lily of the valley and lilies which are very fresh and vibrant. The sandalwood clings to my clothes more than it does to my skin but I could smell it's presence. When it dries down, the jasmine comes out stronger than any of the other bottom notes on my skin there is a sweetness to this fragrance but it isn't a sweet fragrance if that makes any sense.
It's not an incredibly unique fragrance but one that is a beautiful accessory for a hot and humid day like today. The staying power is average with two sprays each time. I did the first application at six this morning, the second application at noon and just sprayed the last for the evening.
Lulu Guinness retails for $60/1.7 oz. or $80/3.4 oz. at
Sephora
however, I purchased the 1.7 oz. bottle at Marshalls for $19.99.