I though I had posted about the Emmy awards but I guess not. These were my favorite dresses from the Emmy awards.
Felicity Huffman
in Kevan Hall.
I really like Felicity Huffman, she seems like a really down to earth person. While she looks rather homely on Desperate Housewives, she's incredibly beautiful and it's times like this that she really has the opportunity to shine.
Marcia Cross
in
Elie Saab
.
Marcia Cross seems to come across very passive aggressive but I think deep down inside she's a rather nice person. She's also recently engaged, isn't it wonderful!
Halle Berry
in
Ungaro
.
Halle Berry always looks great in vibrant colors and I love, love, love the color of this dress! Such a stunner and bouncing back from whatever life throws her way.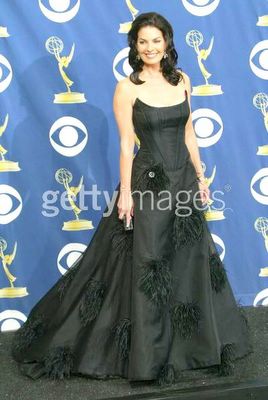 Sela Ward
For the longest time my Mom has wanted to look like Sela Ward. Anyhow, Sela's dress was just amazing and I think she improves with age. Cheers to another late bloomer!
I noticed that there was a lack of necklaces on the red carpet this time around but I did like the appearance of magnolia pins in support of those affected by Hurricane Katrina.
To purchase a magnolia pin or hair clip like the ones seen at the Emmys,
Lindsay Designs
sells them for $10 and 20% of proceeds will be donated to hurricane Relief Efforts.
In my May 2005 Sampler, I received a pin from Linday Designs and it's just fabulous so I highly recommend them.