Lost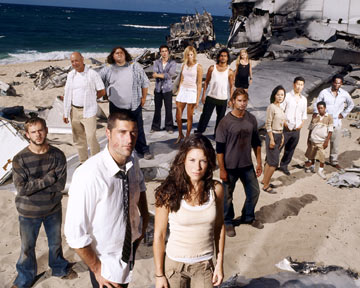 I had a series of strange dreams last night and while it's still fresh in my head I'm writing them out. The first dream was I was shopping at some huge department store that looked like a huge warehouse club. Everywhere you turned there was a sales associate, there was a display that caught my eye that had chocolate scented bronzer (I could smell the chocolate as I walked by) in a compact as big as the palm of my hand and a huge bottle of purple glitter nail polish (similar to
Urban Decay's
Toxin) the bottle was about a 3 oz bottle!
I was talking to a sales associate and going to have a makeover done when someone came to find me and said our table was ready. So I go over to the table and there is the cast of
Lost
about to sit down at my table as someone comes up and says "Can I have your autograph?" to me. I then turn to mention that I'm not famous when one of the cast members asks me "How are you famous?" Then someone else mentions that I composed the musical version of Lost. Which I have to blame on having seen both
Spider-Man 2
and
De-Lovely
last night.
Daniel Dae Kim
stars in both Spider-Man 2 and Lost and De-Lovely is about
Cole Porter
, the famous songwriter!
I fell back asleep and then had a dream that ChattyKathy had moved to some small desert town in Arizona and I had missed my chance to meet her because my sister no longer lived in Phoenix. I wondered why anyone who talked so lovingly about NYC would move to Arizona!
I then was dreaming that Angela started posting bad things about her bunny, that she still hadn't received her package and she was so angry that her bunny would stiff her. I woke up and reminded myself that she did get it but I panicked for a bit!